Around 80 kms south of Porto is the industrial city of Porto – it is one of the light engineering hubs of Portugal, but above all it is famous for making bicycles. In 2020 Portugal produced 2.6 million bicycles (half a million more than the second largest European manufacturer, Italy) and the Agueda region has been the main engine of growth, fuelled by large investments in new factories and machinery backed by generous EU funding.
As well as mainly aluminium bicycle frames being mass produced in factories like those owned by the Triangles group (which opened a 20,000 m2 factory in 2015 (see picture below), using mainly new generation robotic welding), there are some older manufacturers that have evolved over the years to become internationally competitive, like Rodi which made half a million bike wheels and 3 million rims in 2020 and Miranda which makes specialist bike gears.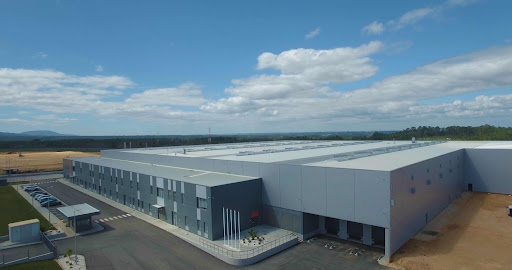 Whilst investments in manufacturing capacity have enable the growth of the bicycle sector, the fact that import duties on Chinese bikes of 48.5% (and up to 79.3% for electric bikes) has helped to shield the Portuguese suppliers from low-cost competition. Having said that, most of the investment in Portugal has been in the mid to premium sector and indeed European consumers have generally been trading up to more expensive models in recent years, which has meant that many of the Portuguese manufacturers have been well placed to surf the wave of growing popularity in cycling in many European countries.
The Portuguese bicycle manufacturing industry growth has been rooted in supplying parts for foreign brands as there are no major Portuguese-owned bicycle brands, which has long been a weakness in Portugal's manufacturing sector as a whole; there is plenty of skill, know-how and investment in manufacturing capacity, but a dearth of the softer skills and ambition necessary to build a global consumer brand. There does not appear to be a  major Portuguese cycling brand waiting to emerge on the world stage and this is true across the different manufacturing sectors. Portugal can offer international brands a low-cost European base for manufacturing in a variety of sectors, but until Portuguese entrepreneurs are prepared to leverage this manufacturing capacity with their own branding the margins will remain low.
Through our consultancy firm, Infeira, we have done a lot of work with some of the light engineering companies associated with the bicycle sector with strategic consulting and access to funding to allow them to grow. It would be fantastic to see some of these companies take the next step and grow their own brands! If your company is looking to manufacture in Portugal, then please contact us here at PortugalWorks where we can help you to assess the viability of manufacturing or sourcing from Portugal and then provide the assistance you will need to start production, including finding premises, accessing EU funding, contracting staff, establishing strategic partnerships and so on.